Book Reviews
The Yellow Monkey Emperor's CLASSIC of CHINESE MEDICINE: A Book Review by John E Smith F:URHP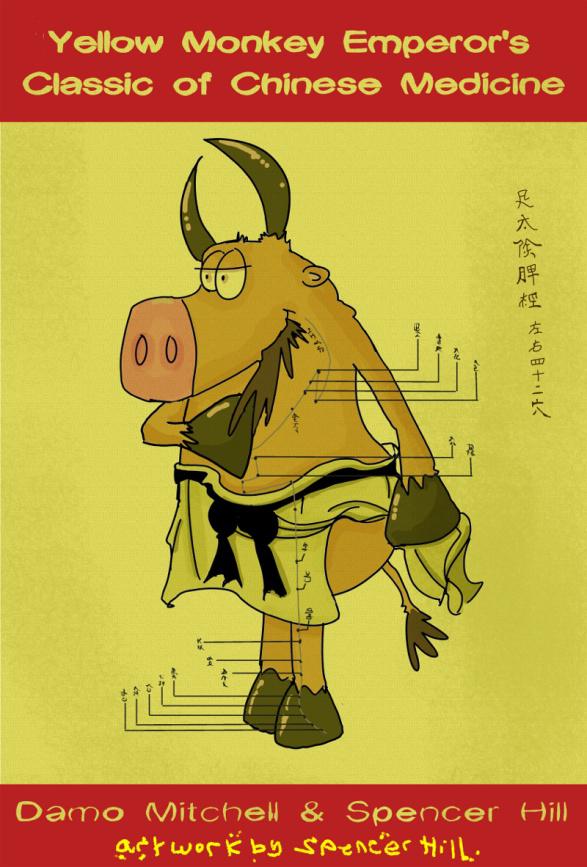 Probably my favourite novel of all time and one which undoubtedly inspired my interest in all things oriental (back in the sixties) was
"Monkey"
or "Journey to the West" by Wu Cheng'en. Monkey (published in 1592) is considered to be one of the Four Classic Novels of Chinese Literature. It tells the story of a monk's journey to bring a set of Buddhist Scriptures out of China. The monk ,Tripitaka, is accompanied by a group of unlikely fellow travellers, a wise but mischievous monkey, 8 Precepts Pig, a White Dragon Horse (a descendent of the Dragon king of the Western Seas) and a river ogre (an immortal skilled in the 18 methods of transformation).
As a TCM practitioner another text which has (of course) inspired me is
"The Yellow Emperor's Classic of Internal Medicine"
(Huangdi Neijing – approx 250 B.C.). This is largely a discourse between the Yellow Emperor (Huangdi) and his acupuncturist/advisor Qi Bo.
Do I digress? No! All will be revealed!


The Yellow Monkey Emperor's Classic of Chinese Medicine
is obviously inspired by both the above classics. It includes a myriad of colourful characters including a pig (boar) a singing dragon, a hoarse (deliberate spelling mistake) and ,of course, a yellow monkey.
It begins (as does the Neijing) with the main characters query:

"Why do people no longer live for more than 100years?"

This question is asked by the Yellow Monkey Emperor when meeting Bee Bo, a wise Bumble Bee, who answers:
"Things were different in ancient times; the animals of the world practised the way of Dao…. In contrast, the youth of today are irresponsible and have stepped away from the natural rhythm of the universe…."
This leads us into an investigation of 78 imbalances in the main Zhang Fu organs, using amusing and colourful cartoon drawings to illustrate what are often difficult syndromes for the average western student to understand such as: "Small Intestine Cold and Deficient "– described in the text as "Banana Cheesecake, Spleen and Stomach Syndrome".
The drawings in this profound "picture book" have been beautifully crafted by Spencer Hill, a long term student of the Daoist Arts. Who co-ordinated on the development of the idea, the text and the concept with Damo Mitchell, the technical Director of the Lotus Nei Gong School of Daoist Arts and the author of several books.

The Yellow Monkey Emperor's Classic of Chinese Medicine
was published this year by Singing Dragon and printed and bound in China
Book Reviews: Make Your Own Aphrodisiacs, by Julie Bruton-Seal and Matthew Seal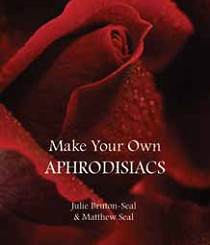 It is amazing how much information has been packed into this little book. It is a masterclass of photography and a truly beautiful piece of visual art, but inside there is so much more. A wealth of knowledge and wisdom gleaned from every corner of our planet is thoroughly reported in a crisp, easy-to-follow format and more fabulous photos illustrate each section.
Of course, I was intrigued by the title and lured in by the sensuous portrait of a red rose in full bloom on the glossy front cover. It was not the racy read I'd half expected, but a sound and factual piece of research that covers all aspects of this often overlooked but very important subject. Far from being salacious in any way, it is a serious study of sexual health and discusses both orthodox and herbal methods of helping people get the most out of their love lives.
In fact the emphasis is very much on a loving relationship rather than sex as an end in itself, and it quite rightly emphasises that the basis of a good sexual relationship is love and respect. The authors provide a pictorial example of this on the credits page.
The book covers plant medicine in great detail and includes herbs from all over the world. It is fascinating to read about local favourite remedies in different cultures and also how traditional dessert recipes for romantic dinners are based on their aphrodisiac qualities. It seems we've been onto something for a long time with the wide popularity of chocolate, almonds, figs and vanilla. Savoury recipes are not excluded either, and there are lots of good ideas on how to include chilli, cardamom, nutmeg and oats in both food and drink.
Aromatherapists are well aware of the complex, sensual and powerful effects of the absolute oils of rose, jasmine and neroli. These are looked at in some detail, with lovely ideas for recipes and massage blends.
There are fun things to do for loving couples but it will also be of real value to practising herbalists. Here is an in-depth reference manual for treating those clients whose love lives are not quite as perfect as they would like. You can find interesting facts on herbs such as Ashwaganda and Shatavari from India; Schisandra, a native of China; spiny Tribulus, which grows all over the temperate world; Muira Puama, which hails from the Amazon; and tricky, dose-dependent Yohimbe from Africa. The various ginsengs are given a collective study and you can finally find out the truth about Horny Goat Weed instead of reading all the rumours that abound about it on the internet!
Our sexual health is just as important as any other aspect of well-being. In this book there is valid acceptance that, as in anything else, we cannot be well in one department if we do not take care of the whole.
This would make a lovely Christmas present or indeed a fun, but informative, gift for lovers of both plants and people at any time of the year. I liked its small size – handy for the bedroom – and the rich, colourful pictures lend themselves very well to romance and the love of life in general.
Heartily recommended for lovers everywhere.
A Taste of the Unexpected by Mark Diacono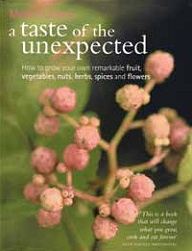 I found this book really inspiring and useful. While I have Martin Crawford's
Creating a Forest Garden
, which covers the same plants and many more, this book is helpful because it is entirely based on what tastes good and includes more information on each plant, along with beautiful illustrations and interesting, unusual recipes.
Some of the plants will be familiar to most herbalists – nasturtium, artichoke and goji berry. The more unususual foods include Carolina allspice, blue honeysuckle berries, Chilean guava and Szechuan pepper (a close relative of prickly ash). I made a wish list of plants, and planted several this year, with more to come next year. I haven't had a crop yet from most, but the blue honeysuckle arrived bearing fruit, and I can say the berries are like blueberries, only better. Yum!
Reviewed by Julie Bruton-Seal
Book Review: The Complementary Therapists Guide to Conventional Medicine, by Clare Stephenson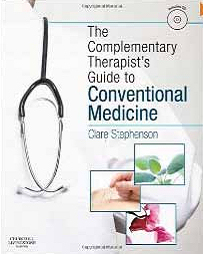 This book was written by a Western medical doctor who then trained with the college of Integrated Chinese Medicine, and subsequently devised a study course for the students of that school – the intention is to bridge the gap between the two styles of medicine, and to build as many connections as possible to facilitate communication between Western and complementary (the term alternative is not used) practitioners. It was written primarily for those who are studying or practising alternative medicine to give them an understanding of conventional medicine. The book is intended either to be purely a reference book, or a complete study course, as it contains frequent helpful self- assessment tests that ensure an understanding of the text. There are also many case studies that help to make it more user-friendly – we are, after all, treating people, not diseases or body systems.The only other book I have come across attempting to do a similar thing is that written by Stephen Gascoigne – The Clinical Medicine Guide: A Holistic Perspective – and Stephenson refers to this on several occasions. Gascoigne's focus is more on the alternative therapy than conventional, so the two books would complement each other rather well.

This is far more than just a book about physiology and disease – it describes how a Western conventional doctor decides on diagnosis and treatment, and all the considerations that have to play a role in those decisions. The section on drugs tells how to find information about medication from the British National Formulary and where it is freely available online; there is an interesting section on drug classification, and also on how to help patients withdraw from specific medication.

There are sections on 'red flag' conditions, which appear in each chapter relating to disease – these are summarised in the appendix, making this a valuable resource.There is a large section on mental health disorders covering anxiety, depression, eating disorders and psychoses. There are chapters on disease processes, cancer, infectious disease; the anatomy and physiology of all body systems are explained in very readable form, together with their disorders and problems; chapters on children's health, pregnancy and childbirth follow. The chapter on diseases of the endocrine system is well written as a teaching aid. The explanations of all the various conventional tests are likely to be valuable information about blood tests, investigative tests such as barium swallow, endoscopy, cystoscopy etc. The section on how to communicate with conventional medics is a great idea.
The accompanying CD contains extra material in the form of several appendices. One summarises and compares the functions of body organs from both a Western and a Traditional Chinese Medicine perspective – very useful for those wanting to bridge the information gap between the two medical systems. Another looks at the interpretation of the energetic action of drugs, how they relieve symptoms and their side effects from a TCM perspective – a how-to-do-it guide for specific drugs. The red flag appendix, and the withdrawal of drug appendix, are extensions of the information contained in the book – both contain a lot more information and should prove very useful. For those using the book as a study guide there is a helpful appendix of check lists as summaries of topics studied.

Potentially extremely useful to anyone doing presentations is the fact that all the diagrams and pictures in the book are available to export from the CD.

Although this book is most relevant to those studying or practising Chinese Medicine it has relevance to Western and Ayurvedic herbalists too. An understanding of TCM would make a difference to how much the reader will get out of this book; but it can very easily be primarily used as a study guide or reference in the understanding of conventional Western medicine.

This book would make an excellent text book for anyone studying any alternative therapy and requiring an understanding of the way conventional medicine works. It would also make an excellent anatomy and physiology textbook – so this twin function more than makes up for its lack of breadth from an alternative perspective.

Reviewed by Christine Herbert
Food, Herbs, Health and Healing
Health and Longevity from Pre-History to Modern Day
Natural healing methods from around the world to promote well-being.
ISBN: 978-1-60860-653-5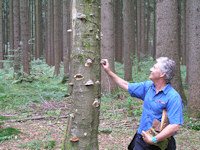 From the author of 100 Herbs of Power, Herbalist John E.Smith takes a look at the use of food and herbs as medicine in different cultures.
From the folk medicine traditions of Europe & America to the five-element system of China, you will learn the healing properties of plants and how to safely use ancient remedies for dozens of common ailments.
Food, Herbs, Health & Healing is a practice-proven way to achieve better health, naturally.
John E. Smith, B.A. (Hons) M:URHP,Dip C.H., is a Classical Herbalist, who has worked and studied throughout Europe, the United States, China, India, Australia, the South Pacific and the Middle East. His interest in traditional systems of healing has inspired this multi-cultural approach to herbal medicine.
Publisher's website:
http://strategicpublishinggroup.com/title/FoodHerbsHealthandHealing.html

John E Smith: http://herbalkhemy.com

Recent Reviews:
This book has improved my health – just by reading it. It is a treasure of knowledge on herbs, food and healing practices from cultures all round the world, from ancient to right up to date. The author makes it clear that herbal medicine is not a science – it is a healing art. He successfully assists the reader to view the body as a whole rather than a collection of unrelated parts. Written with warmth and humour this book is based on the author's practice and passion for herbal medicine traditions and is an excellent follow-up to his previous book 100 Herbs of Power. - Moya Henry: Crescent Arts – Belfast
'Food, Herbs, Health & Healing' by J.E. Smith is the book for those who would like a natural approach to health, healing and beauty.

Combining ancient knowledge with modern facts, easily explained and therefore easy to put into practice. John E Smith outlines a drug free approach to health under the belief that nature is the greatest healer. - Aranza Cobo – Editor 'Back to Nature' Magazine