Book Reviews
A Taste of the Unexpected by Mark Diacono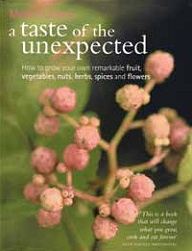 I found this book really inspiring and useful. While I have Martin Crawford's
Creating a Forest Garden
, which covers the same plants and many more, this book is helpful because it is entirely based on what tastes good and includes more information on each plant, along with beautiful illustrations and interesting, unusual recipes.
Some of the plants will be familiar to most herbalists – nasturtium, artichoke and goji berry. The more unususual foods include Carolina allspice, blue honeysuckle berries, Chilean guava and Szechuan pepper (a close relative of prickly ash). I made a wish list of plants, and planted several this year, with more to come next year. I haven't had a crop yet from most, but the blue honeysuckle arrived bearing fruit, and I can say the berries are like blueberries, only better. Yum!
Reviewed by Julie Bruton-Seal
Book Review: The Complementary Therapists Guide to Conventional Medicine, by Clare Stephenson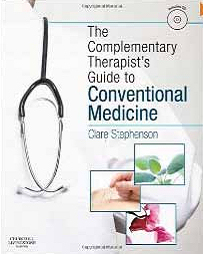 This book was written by a Western medical doctor who then trained with the college of Integrated Chinese Medicine, and subsequently devised a study course for the students of that school – the intention is to bridge the gap between the two styles of medicine, and to build as many connections as possible to facilitate communication between Western and complementary (the term alternative is not used) practitioners. It was written primarily for those who are studying or practising alternative medicine to give them an understanding of conventional medicine. The book is intended either to be purely a reference book, or a complete study course, as it contains frequent helpful self- assessment tests that ensure an understanding of the text. There are also many case studies that help to make it more user-friendly – we are, after all, treating people, not diseases or body systems.The only other book I have come across attempting to do a similar thing is that written by Stephen Gascoigne – The Clinical Medicine Guide: A Holistic Perspective – and Stephenson refers to this on several occasions. Gascoigne's focus is more on the alternative therapy than conventional, so the two books would complement each other rather well.

This is far more than just a book about physiology and disease – it describes how a Western conventional doctor decides on diagnosis and treatment, and all the considerations that have to play a role in those decisions. The section on drugs tells how to find information about medication from the British National Formulary and where it is freely available online; there is an interesting section on drug classification, and also on how to help patients withdraw from specific medication.

There are sections on 'red flag' conditions, which appear in each chapter relating to disease – these are summarised in the appendix, making this a valuable resource.There is a large section on mental health disorders covering anxiety, depression, eating disorders and psychoses. There are chapters on disease processes, cancer, infectious disease; the anatomy and physiology of all body systems are explained in very readable form, together with their disorders and problems; chapters on children's health, pregnancy and childbirth follow. The chapter on diseases of the endocrine system is well written as a teaching aid. The explanations of all the various conventional tests are likely to be valuable information about blood tests, investigative tests such as barium swallow, endoscopy, cystoscopy etc. The section on how to communicate with conventional medics is a great idea.
The accompanying CD contains extra material in the form of several appendices. One summarises and compares the functions of body organs from both a Western and a Traditional Chinese Medicine perspective – very useful for those wanting to bridge the information gap between the two medical systems. Another looks at the interpretation of the energetic action of drugs, how they relieve symptoms and their side effects from a TCM perspective – a how-to-do-it guide for specific drugs. The red flag appendix, and the withdrawal of drug appendix, are extensions of the information contained in the book – both contain a lot more information and should prove very useful. For those using the book as a study guide there is a helpful appendix of check lists as summaries of topics studied.

Potentially extremely useful to anyone doing presentations is the fact that all the diagrams and pictures in the book are available to export from the CD.

Although this book is most relevant to those studying or practising Chinese Medicine it has relevance to Western and Ayurvedic herbalists too. An understanding of TCM would make a difference to how much the reader will get out of this book; but it can very easily be primarily used as a study guide or reference in the understanding of conventional Western medicine.

This book would make an excellent text book for anyone studying any alternative therapy and requiring an understanding of the way conventional medicine works. It would also make an excellent anatomy and physiology textbook – so this twin function more than makes up for its lack of breadth from an alternative perspective.

Reviewed by Christine Herbert
Food, Herbs, Health and Healing
Health and Longevity from Pre-History to Modern Day
Natural healing methods from around the world to promote well-being.
ISBN: 978-1-60860-653-5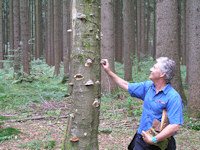 From the author of 100 Herbs of Power, Herbalist John E.Smith takes a look at the use of food and herbs as medicine in different cultures.
From the folk medicine traditions of Europe & America to the five-element system of China, you will learn the healing properties of plants and how to safely use ancient remedies for dozens of common ailments.
Food, Herbs, Health & Healing is a practice-proven way to achieve better health, naturally.
John E. Smith, B.A. (Hons) M:URHP,Dip C.H., is a Classical Herbalist, who has worked and studied throughout Europe, the United States, China, India, Australia, the South Pacific and the Middle East. His interest in traditional systems of healing has inspired this multi-cultural approach to herbal medicine.
Publisher's website:
http://strategicpublishinggroup.com/title/FoodHerbsHealthandHealing.html

John E Smith: http://herbalkhemy.com

Recent Reviews:
This book has improved my health – just by reading it. It is a treasure of knowledge on herbs, food and healing practices from cultures all round the world, from ancient to right up to date. The author makes it clear that herbal medicine is not a science – it is a healing art. He successfully assists the reader to view the body as a whole rather than a collection of unrelated parts. Written with warmth and humour this book is based on the author's practice and passion for herbal medicine traditions and is an excellent follow-up to his previous book 100 Herbs of Power. - Moya Henry: Crescent Arts – Belfast
'Food, Herbs, Health & Healing' by J.E. Smith is the book for those who would like a natural approach to health, healing and beauty.

Combining ancient knowledge with modern facts, easily explained and therefore easy to put into practice. John E Smith outlines a drug free approach to health under the belief that nature is the greatest healer. - Aranza Cobo – Editor 'Back to Nature' Magazine

100 HERBS OF POWER
Classical Herbalist John E. Smith's New Book Discusses the Power and Tradition of Herbs

100 Herbs of Power is an influential read detailing the traditional and medicinal uses of herbs for healing in a world where natural solutions are often overlooked.
Author John E. Smith sees a world that has a lot of potential for harmony and beauty, and yet also a lot of discord and things that make little sense in terms of universal betterment.
"If I can make the tiniest difference, that's great," Smith said.
And the difference that Smith has made is the writing of his new book 100 Herbs of Power. In this potent work, he describes the rich, colorful history and traditional uses of medicinal herbs from numerous cultures around the globe. He outlines the potential of these powerful herbs in a world where science often overshadows common sense.
This influential book is a must read!

Publisher's website: http://www.strategicbookpublishing.com/100HerbsofPower.html
About the Author:
John E. Smith, B.A. (Hons) M: URHP. Dip C.H. is a classical herbalist who has worked and studied throughout Europe, the United States, China, India, Australia, the South Pacific and the Middle East. His interest in traditional systems of healing has inspired this multi-cultural approach to herbal medicine.
For media inquiries, appearances, or other publicity — please contact:
Ellen Green — PressManager@aegpublishinggroup.com
AEG Publishing Group, Inc.
845 Third Avenue, 6th floor-6016 – New York, NY 10022
http://www.Strategicbookpublishing.com - http://www.EloquentBooks.com - http://www.StrategicBookMarketing.com
1-888-808-6190 - Corporate Office
Book Suggestion: 'Herbal' novels by Susan Wittig Albert
A book suggestion for those who like a good novel, but also want to read herb related subjects.

The USA author Susan Wittig Albert has written a series of 'herbal' novels. With titles such as Wormwood, Nightshade and Thyme of Death, they are what could be termed as 'cosy' detectives, with the main character a herb shop owner, she grows herbs, teaches herb workshops and has a shop full of herbal remedies, cosmetic herbs, etc. There is usually a murder in the town and she is the amateur sleuth.

They're very entertaining and many are available on kindle as well as paperback.

Best wishes,
Dawn Ireland