For upcoming events please go to www.herbalalliance.uk
If you would like to add an event to our events list please click here to contact us with the details.
URHP Conference 2022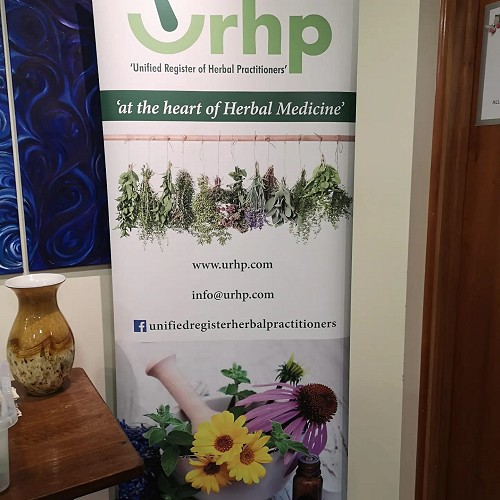 As all our members know, we positively thrive on the variety and knowledge held within our membership, while also welcoming herbal wisdom from other Registers. This was clearly evident at our wonderful summer conference this year, held at The Purley Chase Centre, a haven of glorious surroundings with Nature abundant everywhere. We welcomed external speakers Andrew Mason and Christine Herbert, alongside our own members, Dr Andrew Patterson, Liz Lyden, Barbara Wilkinson, John Smith and Sandra O'Neill.
This gave a truly eclectic feel to the whole weekend, bringing all who attended many valued insights and new learning, as well as the joy of being gathered together and sharing our passion for herbs and herbal medicine. We had plenty of fun and laughs too!
As an aside, we have really taken for granted over the years that we will always have sunny weather for these June/ July conference weekends. So much so, that the weather forecast wasn't checked until we got there and realised our practical outdoor session on Saturday morning was going to be very wet! With the venue having no outdoor covering available, we had to think fast before attendees stared to arrive on the Friday afternoon. A rather rapid visit to a nearby garden centre secured a large pop up gazebo, and fortunately our Vice President Lloyd was very familiar with erecting this sort of equipment and so, as ever, team work secured a happy solution!
The buzz that was felt as speakers and delegates started to arrive was palpable. What amplified this was the pure delight of all attending to see and hug each other in person again, as we gathered together once more under the same roof.
We enjoyed a delicious 2 course supper provided by the hard working Purley Chase team and afterwards we began our conference with a session on Spagyrics and specifically how relevant they have been over the last two years, led by our tenacious and hard working council member and former President, Liz Lyden. These are evidently very therapeutic alchemical medicines and it was fascinating to hear how many of the remedies are aligned with numerology. As well as learning more about the remedies themselves, we also has snippets of case studies showing their powerful action.
The next morning, as the forecast had predicted, we had a deluge of rain. This didn't put us off, because we knew we had a very special session ahead of us. Andrew Mason was bringing us a full on practical demonstration of Ayuvedic alchemy, not seen outside of India. Andrew is a multi skilled practitioner and absolutely passionate about the ancient ways of creating Ayurvedic remedies. We all braved the elements and sheltered under a huge oak tree with all of Andrew's equipment and the fire element of the workshop, protected by the gazebo. We were hardly prepared for the amazing three hours that followed. It was enthralling, as Andrew talked us through some of the history of these almost magical preparations, bringing the crystal rock realm and the plant realm together in a fascinating synergy.
This all took a huge amount of effort on Andrew's part, initially with the equipment that was needed to accomplish all of this, and throughout the session, as he juggled several process at once.  But, in his usual way of combining efficiency, deep knowledge and humility, we saw the transformation of such raw materials as conch shell, cuttlefish bone, sulphur, milk, serpentine, iron and rose petals in order to produce, for example, rosewater, which the conch shell was then ground into to produce a remedy; we purified sulphur in milk, roasted iron and serpentine In a crucible at about 1000 degrees C and made black salt by combining rock salt and dried amla fruit in a furnace. It really was spectacular and all explained to us with clarity, as the alchemy unfolded. All of this to be achieved in the pouring rain was a testament to Andrew's tenacity. Along with all the intrepid members who witnessed it, while being encouraged to participate in some of the preparation techniques along the way. All agreed it had been a fabulous morning's work!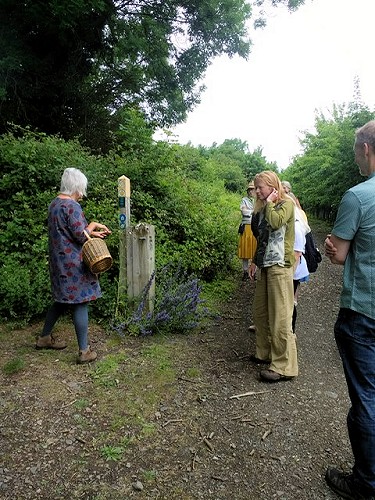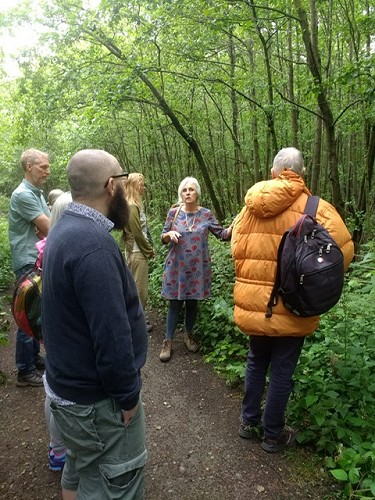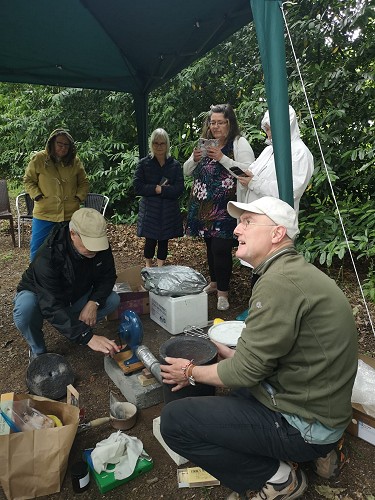 Having shed wet clothes and eaten a hearty lunch, we proceeded into the afternoon sessions.
We were very fortunate to have esteemed herbalist Christine Herbert with us. Christine qualified as a herbalist in 1997, studying Ayurveda, flower essences and iridologist, and specialised in food intolerances and allergies. She has now retired from her practice, enabling her to focus more on teaching, writing and tending to the herbs.
On this occasion, Christine focused on how to use muscle testing for food and other intolerances. She gave us a run through of the huge advantage this technique had given her in her own clinical practice and how it had helped her patients immensely, by discovering the things they may be eating and drinking that were working against their recovery. It was made clear at the outset, the difference between allergy and intolerance. We listened to Christine explain the various common intolerances and she gave us an overview of how these may be detected and treated. We then entered into a full on practical part of the session, by actively trying the muscle testing on each other, with various substances that we can become intolerant to. Christine came round to each of us to help us out and to give further guidance. This turned out to be a hugely useful and enjoyable for all.
Then our URHP member, Dr Andrew Patterson enlightened us with a fascinating session on nutrigenomics. Andrew has been a herbal practitioner since 1998 with other qualifications as an acupuncturist, nutritionist and naturopath. He has taught on the CNM courses and is currently building the Hippocratic Institute with a growing number of students.
With Andrew's easy to listen to teaching style we dived deep into the world of nutrigenomics, a fascinating area and specifically, in Andrew's talk, how we can use this information in our herbal clinics  to assess how the nutrition our patients take in can affect their genes and how their unique  genetic make up can affect the way their body responds to food. It became clear that with the knowledge of how a person's genes are expressing, we can learn much more about how this may affect our client's health and their predisposition to develop certain diseases. Although, he only had time to really scrape the surface of this topic in the two hours allotted, we were able to grasp the elemental aspects of this whole new way of looking at our patient's health and how to use this as a tool in our own practices.
After supper, we had an impromptu time with John Smith, one of our wise herbal elders and an adept story teller, who weaved the tales of his past travels to bring to life the delights of each of the attars that he had brought with him. An absolute joy to listen to, we also enjoyed smelling the various and contrasting scents of his huge collection of attars.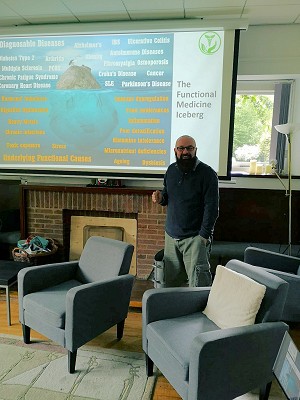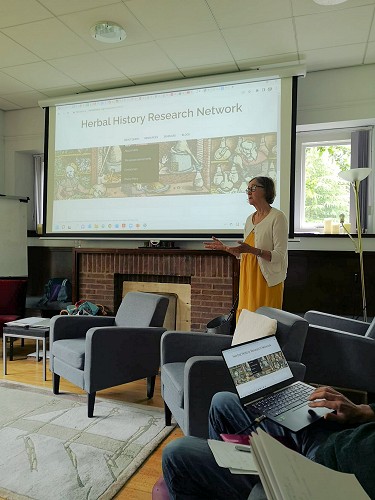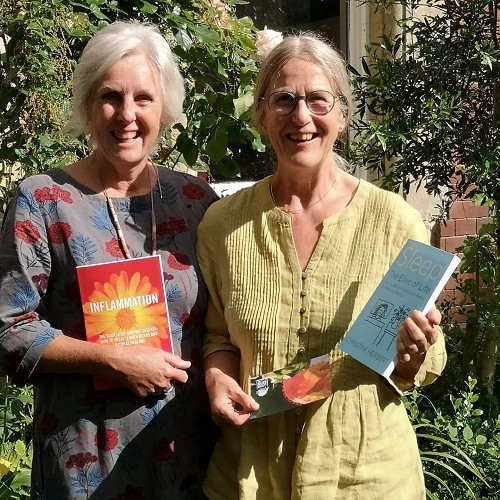 Our social evening was enjoyed by all who came along, with people taking the opportunity to really catch up with each other, as well as enjoying the laughs that were created with a game of herbal charades!
Our final morning was devoted to one of our favourite jaunts, which is the herbal walk, led by our very own Barbara Wilkinson. As well as being a pillar of the Herb Society in all the work she does for them, you can't help but be infected by the enthusiasm and passion that Barbara has for our plant kingdom. She led us through the local paths, pointing out medicinal plants all along the way, and giving us a brief overview of each. It was agreed that we would want to spend more time doing this next year as it is so valuable and not a session to be rushed! We stood at the end of the walk, transfixed by a whole abundant family of foxgloves that were sheltering within a grove of trees. They stood proud, tall, beautiful and connected.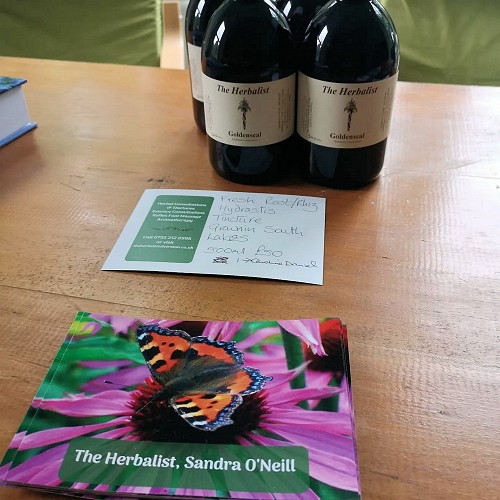 On our return to Purley Chase, we listened to Sandra O'Neill, who we all know best for the wonderful Goldenseal tincture that her husband and her produce. It's always in demand at our conference and this year was no exception. However, Sandra was here, at this point, to tell us about her experiences on her training as a Junior Herbalist course facilitator. This was a course set up by Mel Hornsby a few years ago and herbalists are now being trained to teach this course to school children all over the country. We all agreed that enabling children to be reconnected with Nature and to learn about the medicine that is brought to us by the plants, is a key part of keeping herbal medicine alive and kicking. This generation seems to lap up the delights of how to forage and make herbal remedies, once they are introduced to it in this way. All the course work links with the current curriculums and is a shining example of how to engage the young in discovering this healing world of herbs. We all enjoyed this session and it progressed into a group discussion around how best to bring this sort of knowledge into schools.
We continued to share thoughts and ideas for the URHP and it's membership during the member's meeting and this was followed by our final meal together.
We engaged with each other over lunch, soaking up all the shared experiences and reflections on such a thoroughly enjoyable and informative weekend. So much gratitude was due to those that put so much hard work in, to make it happen.
Soon enough it was time to say farewell and to look forward to when we would be gathered together again. There is something very special about the synergy created on events like this, so may they long continue to be part of our herbal learning and interaction.
URHP Conference 2019
Purley Chase was bathed in sunlight as we arrived with eager anticipation for our yearly conference. This was a brilliant start to the weekend: to be able to sit down together in the sunshine outside with a cuppa and a delicious cake to chat and reconnect, while welcoming old friends and newcomers alike.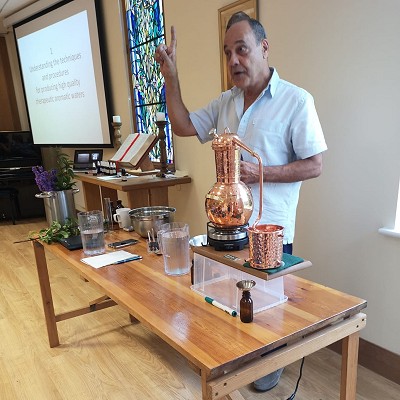 A huge amount of work had gone into the planning and organisation of this event from the conference team and this paid off with a smooth running welcoming team, ready with packs for each attendee and guidance and information about the weekend for those that needed it. From beginning to end, the whole conference was infused perfectly with learning and laughter, wisdom and wit with a generous helping of collaboration and communication - the ideal recipe for a nourishing and joyous herbal gathering.
The inspiring and highly motivated Rosemary Umolo was our first speaker and she gave us all an overview of her 'Periods, not Pills' campaign to bring knowledge and understanding of the menstrual cycle to school girls and how they can be empowered to take their health issues around painful and difficult periods into their own hands. She also illustrated her herbal approaches by discussing case studies. Rosemary's talk was really enlightening, particularly as she has found ways of connecting with service providers in the school environment.
After supper, we were delighted to have a talk from one of our council members, Liz Lyden, about the incredible healing and balancing powers of Phylak Spagyrics. This truly is a mode of treatment that has the magic of herbal alchemy at its core. We were entranced as Liz explained as simply as she could, how this type of herbal medicine acts upon the human system at all levels. She talked us through several case studies and also generously offered to make each one of us a Spagyric constitutional remedy to take home with us.
Saturday was full to the brim with much diverse and valuable learning from our speakers, as well as all of us making the most of connecting in bright and often fascinating conversations with each other. We can sometimes underestimate how powerful it is to sit together with other practitioners and soak up the mutual experience and wisdom that abounds.
Our first speaker of the day was Joe Nasr from Avicenna who talked us through the joysand delights of aromatic herbs and gave us a practical demonstration of actually producing an aromatic water from the beautiful mint plant that he had brought along. The distilling equipment itself is a wonderful sight to behold and we all thoroughly enjoyed watching the distillate gradually appearing and then being able to swoon over its unique aroma. As always, Joe kept our attention with his wise and witty explanations of these special plants that are so close to his heart.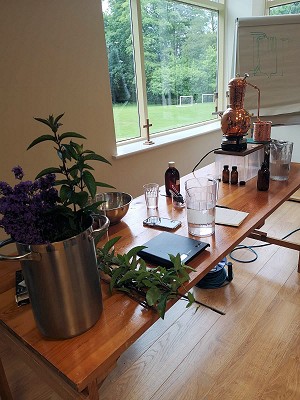 Ben Birrell from the CBD brothers followed this session and all who attended were extremely interested to hear the story of how this business began and what has grown from these original roots. Ben talked very openly and candidly about the journey to actually producing the variety of CBD oils that are available today from their company. He has had the direct experience of seeing how beneficial this compound is for children with severe disabilities and also for palliation when appropriate. He brought a press with him, so we could witness how the oil is extracted from the plant. This was a talk that gave us new insights into the world of CBD oil.
Our next speaker, Mel Hornby, and travelled from the North of England, where she has been running 'The Junior Herbalist Club' for several years. There is such great importance in instilling a love of plants and nature into children and ultimately equipping them with skills that will stay with them for life. Mel has done this on a phenomenal scale. It begun with a few interested children at a local school learning how to collect plant material and making a remedy of some description from it. This has now become a course with learning objectives and outcomes which links to the national curriculum, while the joy ofconnecting to plants remains its guiding principle. Mel is now running courses to train herbalists in becoming leaders of a Junior Herbalist Club in their own area and will soon be commencing a full time position teaching these skills in a grammar school. We were all inspired by how sheer determination combined with a vision and passion, can result in such a positive outcome for engaging children in the beauty, magic and power of herbs.
Our own Sandra O'Neill then filled the following hour with her own passion for a very special herb: Goldenseal. We all know the myriad of healing properties that this highly esteemed herb has. What Sandra gave us was an insight into how to successfully grow and nurture this plant and encouraged us to propagate it in our own gardens. Sandra andher partner have been experimenting for years to discover the best possible conditions for producing healthy, happy hydrastis and have succeeded! They manufacture their own tincture from this and a sample was passed round for us to try out - a deep and rich bitterness pervades the tongue on tasting this particular product, which meant it was sold out within minutes of the lecture finishing!
Our final talk of the day was an essential one for practising safely as a herbal practitioner: red flags. This subject was given a thorough exploration and explanation by our URHP member, Dr Edward Thompson. It is so important that we keep up to date with our medical knowledge in order to refer our patients on to the appropriate medical teams when it is necessary.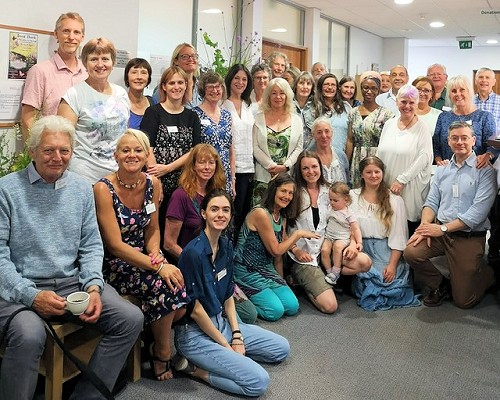 The whole day was 'full on' in a very positive way and there was much to learn and absorb from all of our speakers. This organised programme was intertwined with time for 'open space', when anyone who wanted to set up a session for learning or discussion, could do so. This opportunity was taken up by several different herbalists and the feedback was that this was a great way to explore other subjects in a more informal way.
There was a great 'buzz' of conversation around the dinner tables that evening after such a fascinating day, which carried on in the conservatory/ bar area as those who wanted to, relaxed and socialised, sharing stories, experiences and laughter.
On Sunday, the sun came out to greet us once more and we began our day with URHPmember, Don Rawson, who had agreed to talk to us on the subject of 'mind the mindbody gap'. This lecture proved to be 'ab fab', yes, absolutely fabulous! Don was a psychotherapist well before he discovered the world of herbs and became a qualified herbalist. Over the years he has come to realise the critical importance of being aware of both the mind and body imbalances that his patients present with and linking these up to provide a truly holistic treatment that takes account of every area of a patient's life and environment. Don illustrated this by giving us an in depth insight into two contrasting case studies and how he dealt with each one: what was beneficial and where mistakes were made. Everyone who was there to listen to this fascinating lecture agreed that they would love to hear more at a future date.
Our own Barbara Wilkinson then led those who wanted to go, on a herbal walk, which delighted the senses and enlivened the brain! Barbara has an innate ability to infect all who surround her, with her own passionate love of herbs that abound around us. She is like a walking herbal encyclopaedia and there is always so much to learn and enjoy fromthese special walks.
The AGM followed and then our final meal together to eat as well as share our thoughts and feelings about the weekend we had just experienced. It was generally felt that this had been an incredibly enjoyable conference. Those who had not attended before, were bowled over by the friendliness and warm welcome they received which pervaded thewhole gathering. Much wisdom and experience was shared and we all came away with the knowledge that this sort of herbal gathering is essential in gathering our strengths together: to share, to engage, to learn, to grow and to celebrate both our unity anddiversity.
Laura Yarham
URHP President July 2019
URHP Conference: 6th to 8th July 2018
The expectations and the energy were high as we all began to arrive at Purley Chase on Friday 6th July for our 'home grown' conference. This year, the council had decided to plan and organise a little differently: we had three Herbal companies providing stands with their products, as well as lecture time; members had volunteered to lead and speak in some of the sessions which meant we were really tapping into the wealth of wisdom and knowledge within our own ranks. We had running along side this, the option of 'Open Space', where anyone who wanted to spend time discussing or exploring a certain subject with others could do so.

We had also decided to run it as a free event, with delegates just having to pay for their 'bed and board'. With the added advantage of the conference being marketed on Eventbrite for the first time, we attracted a large number of non-members. It was a real delight to be part of the welcoming team, giving out welcome packs to members and non-members alike and guiding them as required to the layout of Purley Chase.

The 'buzz' that began from the moment the first delegates started arriving, did not really stop for the whole weekend! This feeling of high spirits combined with enthusiasm to learn new things and to collaborate together made the whole three days a tremendous success.

We had chosen the venue once more, as it is so central, while also providing such a rich natural environment. As the weekend progressed and we received so much positive feedback with regard to all aspects of what Purley Chase offers, we came to the conclusion that it really made a lot of sense to book it again for 2019 and this is what we have done.

We were provided with a delicious supper where old and new acquaintances gathered around tables and shared tales of their journeys along with their expectations of the weekend. This led us to our first lecture by our very own Judy Evans who gave us further insights into the links between our environment and the development of osteoporosis.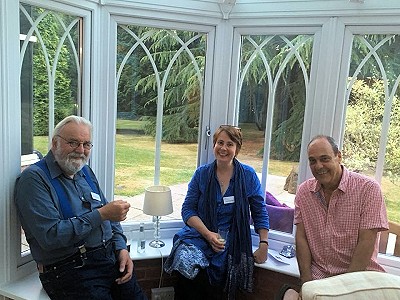 After a hearty breakfast the next morning, more delegates arrived and we were ready for our session led by Joe Nasr from Avicenna. Joe is a joy to listen to and we were all fascinated by his lecture on aromatic plants as well as being given the chance to smell the divine fragrances of the distilled herbal waters he had brought with him for us to experience.

The rest of the day, delegates had only one problem: there was a choice of two different speakers for each time slot and so decisions had to be made! There was a great selection on offer, from Rose Holmes from Riohealth giving a clear update of the treatment of Lyme's disease, to meditating with the plants outside in the form of plant spirit medicine; from James Fearnley regaling us with bee tales from his own company, Herbal Apothecary, to Caroline Daniels giving her own very compelling and personal journey in treating and healing breast cancer. John Smith gave a very enlightening talk on attars while Barbara Wilkinson did a whistle stop tour of some of the healing qualities of the herbs in the gardens of Purley Chase. Dr Edward Thompson completed the day with a very much required lecture on red flags, something that is so important in order for us to be practicing as safe and responsible practitioners.

It really was a day packed from start to finish with so many herbal delights, insights and learning and all with the sun streaming in on us and the sounds of Nature right outside for us to enjoy. It was a magical mix indeed and one that everyone who was there, said they thoroughly enjoyed.

There was much 'buzzing' going on between all the attendees during dinner after such an enlightening programme of events. For some, this continued into the bar area in the evening, where certain musical prowess was on offer and informal chat to finish off the day.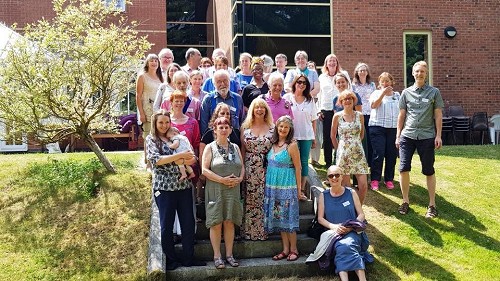 The sun rose obligingly again the next morning, with not a cloud in sight and so began our final day. Joe Nasr continued to explore the world of aromatic herbs, giving us detailed information on the distilling process and the efficacious properties of some of the herbal waters that are produced from this.

The AGM, which had several non members attending as observers, then proceeded and much was discussed with a general positive feeling about our next steps forward, but also how enjoyable the conference had been.

The whole wonderful weekend was rounded off with a scrumptious lunch. The staff at Purley Chase really did us proud and we left with stomachs happily full, as well as heads brimming with newly learnt skills and knowledge. There were many new connections made throughout the conference and all fed back that the warmth and friendliness that had pervaded the event, had made it one to remember.

URHP Conference June 2017
It was a warm and pleasant Friday afternoon when we arrived at the beautifully appointed Purley Chase for another weekend of delights, surprises and rich, valuable learning as well as highly valuable connections with our herbal colleagues.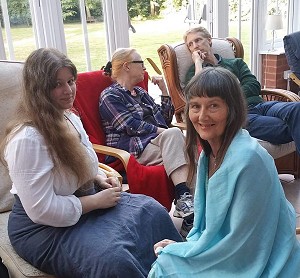 After initial greetings alongside sampling scrumptious treats with our welcoming drinks, we all settled ourselves in to this charming place of peace and calm, readying ourselves for a stepping off from the usual hectic pace of life to a rather more gentle and reflective space. This is the gift of coming away for a weekend conference together in such tranquil surroundings. Stopping to take stock of all we have achieved and all we want to focus our energies on in our herbal world is essential if we are to move forward effectively and this is what we achieved.

Our first exploration into deepening our knowledge began after an early dinner. It was led by our very own Judy Evans, who is a naturopathic Herbalist, talking to us about natural ways of treating the menopause. Judy used her own experience of previously very difficult monthly cycles to demonstrate how effective natural approaches can be. In the past, she had gathered huge amounts of research in order to help herself and came upon the work of John Lee MD and his insights and treatments using natural progesterone backed by many years of clinical research. We all took in this information (as easily as this remarkable cream is absorbed into our skin!) with great interest and, for me, it certainly highlighted an area that I would want to develop in my practise.

Judy covered as much as she could in the time allotted and gave us a great overview of the various ways that we can all approach this rather challenging time of life with our clients. It has to be said, some of us of a certain age, were already on the website ordering the natural progesterone cream before we went to bed!



The next day dawned bright and we all had great expectations of the forthcoming day. We were not disappointed! What a fabulous day we had with not only a fascinating and moving narrative but also lively discussion with plenty of laughter. Our speaker for the day was Dame Commander Annette Montague-Thomas. For those of you who have not been fortunate enough to have met her, Annette is one in a million: she brought energy and passion to all she spoke about, enlightening us with her own particular story and in doing so, motivating us all to follow our own herbal paths with courage and determination.

Annette is founder of The Global Natural Healthcare Trust Charity and she took us on her journey from early work with UNICEF in Africa to how she came to set up her own charity in 2000. This all began with Annette seeing a documentary about the HIV/ AIDS pandemic and how this was devastating townships in South Africa. She was so moved that with her innate steely determination, she flew out to Africa with a vision and a mission in her head and her heart, not entirely sure where she would begin, but knowing that she must, at least, try. There aren't many who would have fought in the way Annette did and still does, against such odds and brought into being an exceptional medical centre with a team treating many people each day; a farm where all the herbs used are grown; a children's hospice; a children's unit (The Cuddle Centre) and an adult respite centre. All this has come about from one woman working tirelessly: finding solutions, being proactive, engaging others, collaborating with funding agencies while using her skills as a herbalist to achieve her goals.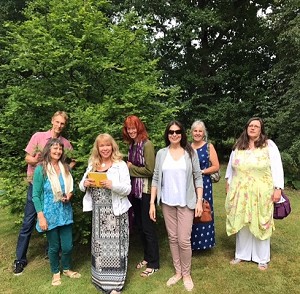 We all, I think, sat in the lecture room that day, silenced at times with awe that such an undertaking had been achieved. Annette has such a gift of storytelling and delighted us with anecdotes that literally had us howling with laughter. She was also open to questions and discussion as her story unfolded, which gave a beautiful flow to the day. In the latter part of the afternoon, we focused on the devastation that Lyme's disease can have on people's lives with Annette giving us the benefit of her own experience in meeting and treating a young girl with this illness. This was an opportunity as well, for those who also had knowledge and involvement in dealing with Lyme's, to share this with the rest of the group. There was much to communicate on this subject and we closed the session with renewed interest and new ideas about how to approach such an overwhelming disease.

This had been a day packed with creative energy. We had heard a story that stimulated us to move forward in our own professional lives and left us with a feeling that with the right combination of vision and action, anything could be achieved. We also had an insight into the incredible power of herbs and how they had brought their own particular healing to this community when in the hands of a skilled practitioner.

After such a highly charged day, we were very happy to tuck into the usual delicious supper and those who still had the energy partook of an evening of singing, music and conversation, entertained by the talent within our own membership.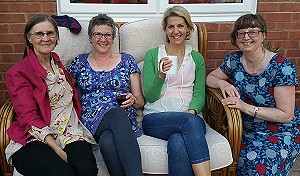 The Sunday morning was dedicated to the AGM, reports from the council and further discussion of topics raised the previous day. There was a lot of positive energy amongst us, as we planned the next few months and how we would engage more with our local communities, as well as tackling political issues in the wider world of herbalism. It must be said that there was much beneficial collaboration between us all and we came out of the morning with a real feeling of moving forwards and working together for both the URHP and our precious plants, which after all, deserve much gratitude for the gifts they bestow on us as medical herbalists.

Our nurturing weekend was rounded off for those who were able to stay, with a magnificent herb walk led by Barbara Wilkinson, who has the true ability to let the joy of each herb shine through with her narrative and deep understanding of the plant kingdom.

This was a hugely successful conference, where, with our ability to stop, reflect and plan, we were able to, not only enjoy the compelling content our speakers laid before us, but also to step forward with new creative ideas and plans for ourselves and our professional association.

Laura Yarham