URHP Conference 2018: Review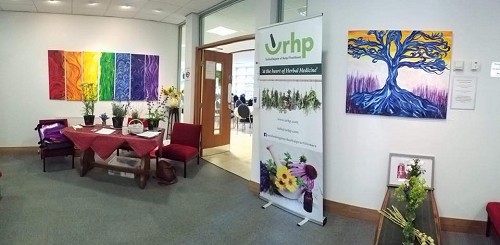 The expectations and the energy were high as we all began to arrive at Purley Chase on Friday 6th July for our 'home grown' conference. This year, the council had decided to plan and organise a little differently: we had three Herbal companies providing stands with their products, as well as lecture time; members had volunteered to lead and speak in some of the sessions which meant we were really tapping into the wealth of wisdom and knowledge within our own ranks. We had running along side this, the option of 'Open Space', where anyone who wanted to spend time discussing or exploring a certain subject with others could do so.

We had also decided to run it as a free event, with delegates just having to pay for their 'bed and board'. With the added advantage of the conference being marketed on Eventbrite for the first time, we attracted a large number of non-members. It was a real delight to be part of the welcoming team, giving out welcome packs to members and non-members alike and guiding them as required to the layout of Purley Chase.

The 'buzz' that began from the moment the first delegates started arriving, did not really stop for the whole weekend! This feeling of high spirits combined with enthusiasm to learn new things and to collaborate together made the whole three days a tremendous success.

We had chosen the venue once more, as it is so central, while also providing such a rich natural environment. As the weekend progressed and we received so much positive feedback with regard to all aspects of what Purley Chase offers, we came to the conclusion that it really made a lot of sense to book it again for 2019 and this is what we have done.

We were provided with a delicious supper where old and new acquaintances gathered around tables and shared tales of their journeys along with their expectations of the weekend. This led us to our first lecture by our very own Judy Evans who gave us further insights into the links between our environment and the development of osteoporosis.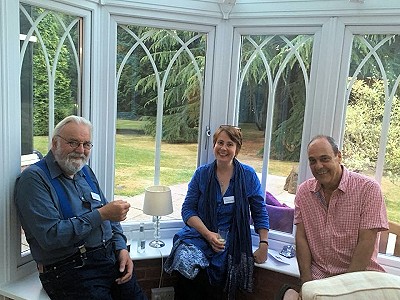 After a hearty breakfast the next morning, more delegates arrived and we were ready for our session led by Joe Nasr from Avicenna. Joe is a joy to listen to and we were all fascinated by his lecture on aromatic plants as well as being given the chance to smell the divine fragrances of the distilled herbal waters he had brought with him for us to experience.

The rest of the day, delegates had only one problem: there was a choice of two different speakers for each time slot and so decisions had to be made! There was a great selection on offer, from Rose Holmes from Riohealth giving a clear update of the treatment of Lyme's disease, to meditating with the plants outside in the form of plant spirit medicine; from James Fearnley regaling us with bee tales from his own company, Herbal Apothecary, to Caroline Daniels giving her own very compelling and personal journey in treating and healing breast cancer. John Smith gave a very enlightening talk on attars while Barbara Wilkinson did a whistle stop tour of some of the healing qualities of the herbs in the gardens of Purley Chase. Dr Edward Thompson completed the day with a very much required lecture on red flags, something that is so important in order for us to be practicing as safe and responsible practitioners.

It really was a day packed from start to finish with so many herbal delights, insights and learning and all with the sun streaming in on us and the sounds of Nature right outside for us to enjoy. It was a magical mix indeed and one that everyone who was there, said they thoroughly enjoyed.

There was much 'buzzing' going on between all the attendees during dinner after such an enlightening programme of events. For some, this continued into the bar area in the evening, where certain musical prowess was on offer and informal chat to finish off the day.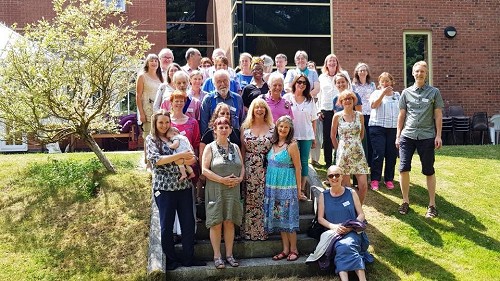 The sun rose obligingly again the next morning, with not a cloud in sight and so began our final day. Joe Nasr continued to explore the world of aromatic herbs, giving us detailed information on the distilling process and the efficacious properties of some of the herbal waters that are produced from this.

The AGM, which had several non members attending as observers, then proceeded and much was discussed with a general positive feeling about our next steps forward, but also how enjoyable the conference had been.

The whole wonderful weekend was rounded off with a scrumptious lunch. The staff at Purley Chase really did us proud and we left with stomachs happily full, as well as heads brimming with newly learnt skills and knowledge. There were many new connections made throughout the conference and all fed back that the warmth and friendliness that had pervaded the event, had made it one to remember.