URHP Conference 2022: Review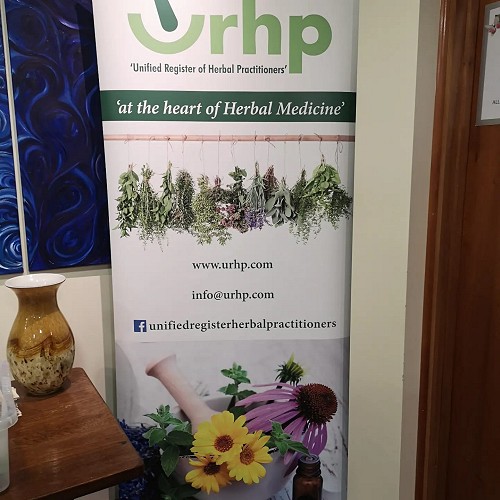 As all our members know, we positively thrive on the variety and knowledge held within our membership, while also welcoming herbal wisdom from other Registers. This was clearly evident at our wonderful summer conference this year, held at The Purley Chase Centre, a haven of glorious surroundings with Nature abundant everywhere. We welcomed external speakers Andrew Mason and Christine Herbert, alongside our own members, Dr Andrew Patterson, Liz Lyden, Barbara Wilkinson, John Smith and Sandra O'Neill.
This gave a truly eclectic feel to the whole weekend, bringing all who attended many valued insights and new learning, as well as the joy of being gathered together and sharing our passion for herbs and herbal medicine. We had plenty of fun and laughs too!
As an aside, we have really taken for granted over the years that we will always have sunny weather for these June/ July conference weekends. So much so, that the weather forecast wasn't checked until we got there and realised our practical outdoor session on Saturday morning was going to be very wet! With the venue having no outdoor covering available, we had to think fast before attendees stared to arrive on the Friday afternoon. A rather rapid visit to a nearby garden centre secured a large pop up gazebo, and fortunately our Vice President Lloyd was very familiar with erecting this sort of equipment and so, as ever, team work secured a happy solution!
The buzz that was felt as speakers and delegates started to arrive was palpable. What amplified this was the pure delight of all attending to see and hug each other in person again, as we gathered together once more under the same roof.
We enjoyed a delicious 2 course supper provided by the hard working Purley Chase team and afterwards we began our conference with a session on Spagyrics and specifically how relevant they have been over the last two years, led by our tenacious and hard working council member and former President, Liz Lyden. These are evidently very therapeutic alchemical medicines and it was fascinating to hear how many of the remedies are aligned with numerology. As well as learning more about the remedies themselves, we also has snippets of case studies showing their powerful action.
The next morning, as the forecast had predicted, we had a deluge of rain. This didn't put us off, because we knew we had a very special session ahead of us. Andrew Mason was bringing us a full on practical demonstration of Ayuvedic alchemy, not seen outside of India. Andrew is a multi skilled practitioner and absolutely passionate about the ancient ways of creating Ayurvedic remedies. We all braved the elements and sheltered under a huge oak tree with all of Andrew's equipment and the fire element of the workshop, protected by the gazebo. We were hardly prepared for the amazing three hours that followed. It was enthralling, as Andrew talked us through some of the history of these almost magical preparations, bringing the crystal rock realm and the plant realm together in a fascinating synergy.
This all took a huge amount of effort on Andrew's part, initially with the equipment that was needed to accomplish all of this, and throughout the session, as he juggled several process at once. But, in his usual way of combining efficiency, deep knowledge and humility, we saw the transformation of such raw materials as conch shell, cuttlefish bone, sulphur, milk, serpentine, iron and rose petals in order to produce, for example, rosewater, which the conch shell was then ground into to produce a remedy; we purified sulphur in milk, roasted iron and serpentine In a crucible at about 1000 degrees C and made black salt by combining rock salt and dried amla fruit in a furnace. It really was spectacular and all explained to us with clarity, as the alchemy unfolded. All of this to be achieved in the pouring rain was a testament to Andrew's tenacity. Along with all the intrepid members who witnessed it, while being encouraged to participate in some of the preparation techniques along the way. All agreed it had been a fabulous morning's work!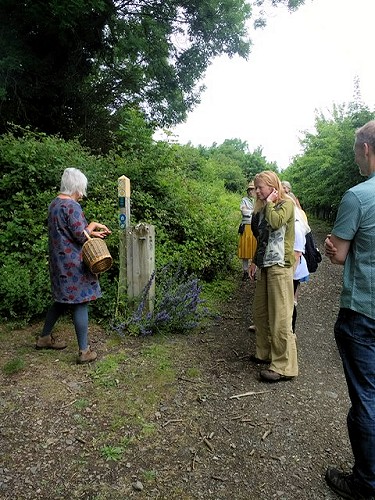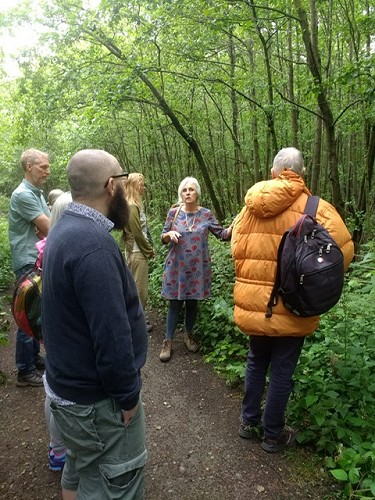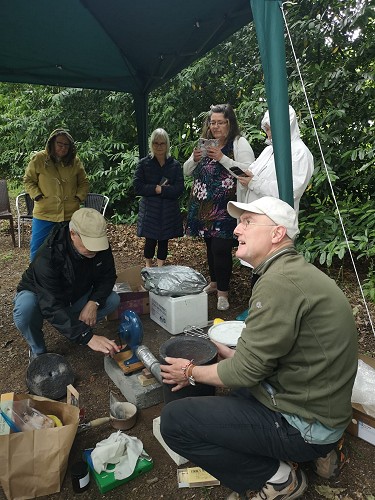 Having shed wet clothes and eaten a hearty lunch, we proceeded into the afternoon sessions.
We were very fortunate to have esteemed herbalist Christine Herbert with us. Christine qualified as a herbalist in 1997, studying Ayurveda, flower essences and iridologist, and specialised in food intolerances and allergies. She has now retired from her practice, enabling her to focus more on teaching, writing and tending to the herbs.
On this occasion, Christine focused on how to use muscle testing for food and other intolerances. She gave us a run through of the huge advantage this technique had given her in her own clinical practice and how it had helped her patients immensely, by discovering the things they may be eating and drinking that were working against their recovery. It was made clear at the outset, the difference between allergy and intolerance. We listened to Christine explain the various common intolerances and she gave us an overview of how these may be detected and treated. We then entered into a full on practical part of the session, by actively trying the muscle testing on each other, with various substances that we can become intolerant to. Christine came round to each of us to help us out and to give further guidance. This turned out to be a hugely useful and enjoyable for all.
Then our URHP member, Dr Andrew Patterson enlightened us with a fascinating session on nutrigenomics. Andrew has been a herbal practitioner since 1998 with other qualifications as an acupuncturist, nutritionist and naturopath. He has taught on the CNM courses and is currently building the Hippocratic Institute with a growing number of students.
With Andrew's easy to listen to teaching style we dived deep into the world of nutrigenomics, a fascinating area and specifically, in Andrew's talk, how we can use this information in our herbal clinics to assess how the nutrition our patients take in can affect their genes and how their unique genetic make up can affect the way their body responds to food. It became clear that with the knowledge of how a person's genes are expressing, we can learn much more about how this may affect our client's health and their predisposition to develop certain diseases. Although, he only had time to really scrape the surface of this topic in the two hours allotted, we were able to grasp the elemental aspects of this whole new way of looking at our patient's health and how to use this as a tool in our own practices.
After supper, we had an impromptu time with John Smith, one of our wise herbal elders and an adept story teller, who weaved the tales of his past travels to bring to life the delights of each of the attars that he had brought with him. An absolute joy to listen to, we also enjoyed smelling the various and contrasting scents of his huge collection of attars.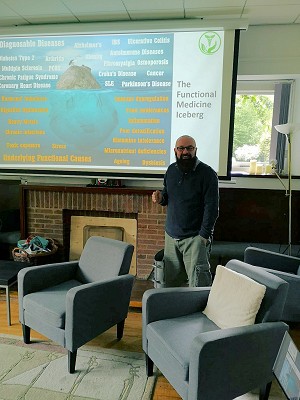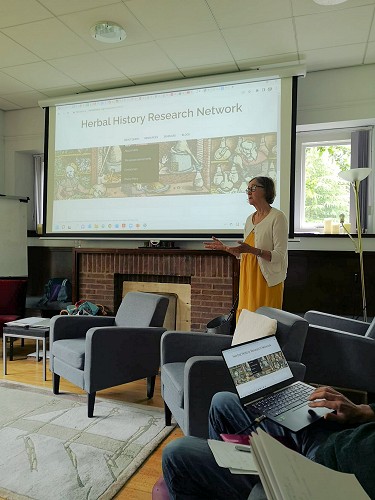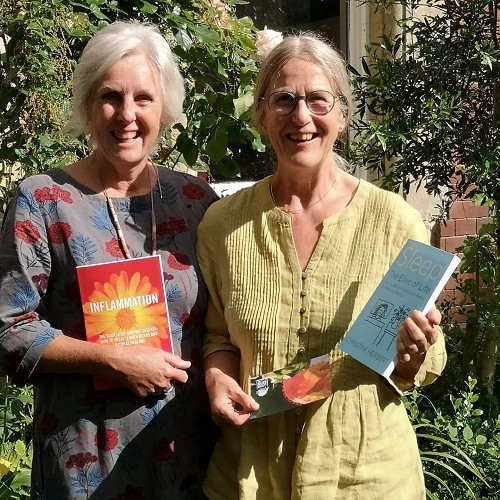 Our social evening was enjoyed by all who came along, with people taking the opportunity to really catch up with each other, as well as enjoying the laughs that were created with a game of herbal charades!
Our final morning was devoted to one of our favourite jaunts, which is the herbal walk, led by our very own Barbara Wilkinson. As well as being a pillar of the Herb Society in all the work she does for them, you can't help but be infected by the enthusiasm and passion that Barbara has for our plant kingdom. She led us through the local paths, pointing out medicinal plants all along the way, and giving us a brief overview of each. It was agreed that we would want to spend more time doing this next year as it is so valuable and not a session to be rushed! We stood at the end of the walk, transfixed by a whole abundant family of foxgloves that were sheltering within a grove of trees. They stood proud, tall, beautiful and connected.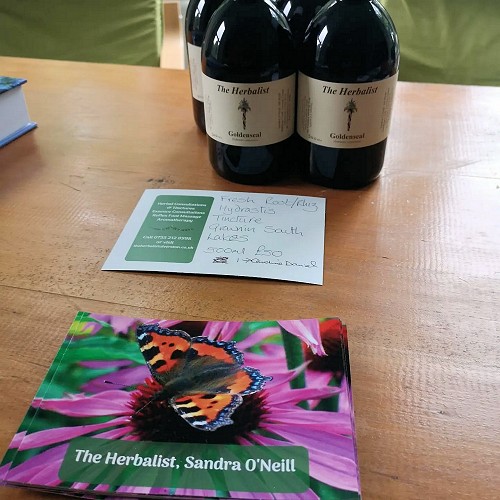 On our return to Purley Chase, we listened to Sandra O'Neill, who we all know best for the wonderful Goldenseal tincture that her husband and her produce. It's always in demand at our conference and this year was no exception. However, Sandra was here, at this point, to tell us about her experiences on her training as a Junior Herbalist course facilitator. This was a course set up by Mel Hornsby a few years ago and herbalists are now being trained to teach this course to school children all over the country. We all agreed that enabling children to be reconnected with Nature and to learn about the medicine that is brought to us by the plants, is a key part of keeping herbal medicine alive and kicking. This generation seems to lap up the delights of how to forage and make herbal remedies, once they are introduced to it in this way. All the course work links with the current curriculums and is a shining example of how to engage the young in discovering this healing world of herbs. We all enjoyed this session and it progressed into a group discussion around how best to bring this sort of knowledge into schools.
We continued to share thoughts and ideas for the URHP and it's membership during the member's meeting and this was followed by our final meal together.
We engaged with each other over lunch, soaking up all the shared experiences and reflections on such a thoroughly enjoyable and informative weekend. So much gratitude was due to those that put so much hard work in, to make it happen.
Soon enough it was time to say farewell and to look forward to when we would be gathered together again. There is something very special about the synergy created on events like this, so may they long continue to be part of our herbal learning and interaction.